Now is the time to start truly adding GREATER VALUE to your business through the benefits of OUTSOURCING.
By engaging in OUTSOURCING, you will have the real ability to INCREASE your service standards and GROW your business instead of being buried in back-office work.
Reduce your COSTS – IMPROVE your business – FREE your time
We recruit and manage professional staff who will be 100% dedicated to your business and will work
directly with you from our office. They are effectively an extension of your local team, just located remotely.
IT'S NOT A SECRET! YOU HAVE YOUR CONCERNS!
When it comes to outsourcing most business owners are scared, don't know who to turn to and are worried about getting ripped off! The good news is that Premier Outsourcing has dedicated Australian business owners who live in the Philippines, have years of experience in the outsourcing industry and own multiple businesses in a range of different areas. If you're looking for a free consultation we would be happy to assist.
3 BIG reasons to outsource
Misconceptions about outsourcing
5 things that can be outsourced
The hardest decision you will make regarding outsourcing is that of the decision to start.
The Philippines workforce is fast becoming a hotspot for entrepreneurs and business owners to grow their business using virtual assistants.
The term virtual assistant refers to a person who is hired by a company to complete work on behalf of that company from a remote location. Hiring a person from a remote location is referred to as 'Outsourcing'.
'Outsourcing' refers to an agreement in which one company hires another company to be responsible for an existing internal activity.
Businesses can outsource a wide range of tasks to a virtual assistant. Some of these tasks include accounting, bookkeeping, graphic design, customer service and data entry to name a few. Essentially any work that can be completed using a computer or a telephone can be achieved by a virtual assistant.
What are the benefits of outsourcing?
1.    Reduce cost
With the cost of living in the Philippines much lower than in Western countries, partnering with an outsourcing provider like us can save your business up to 70% on employment costs for the same level of talent.
2.    Focus on core business
By outsourcing all time consuming and back office administrative tasks to the Philippines, it allows you and your local team to focus on the core business such as nurturing your relationship with your clients and expanding your client base.
3.   Increase your capacity
Reducing your internal costs and increasing the number of external staff can help you improve your ability to handle more significant workload. If your business is scaling a great way to handle any inefficiencies is to hire outsource staff from the Philippines.
Outsourcing enables you the time to focus your attention, streamline practices, while at the same time growing your business at a fraction of the cost as that of hiring locally.
Outsourcing will:
1. Save you Money
2. Save you Time
3. Improve your Business
At Premier Outsourcing we are an Australian owned outsourcing company that understands the needs of business owners, understands the Philippines culture and how to get the best out of your virtual assistant.
If you are a business owner and are considering hiring a virtual assistant from the Philippines, we would love to have a one on one consultation to discuss your business needs and how we can best assist.
Premier Outsourcing is an Australian Outsourcing Company owned and managed by George Psomas, an Australian living full time in the Philippines. George began his entrepreneurial journey over ten years ago with successful businesses still operating within Australia.
The company was formed when George realised that Outsourcing could offer a large magnitude of benefits to each of his businesses. He also felt that starting an Australian Outsourcing Company could benefit many other small and large companies throughout the country, while also creating a positive influence in a third world country and helping those less fortunate.
As the cost of living in Australia increases, staff are becoming more and more demanding for higher wages, while consumers are becoming more and more cautious with their hard-earned money. This dilemma is creating a problem for a lot of small and large businesses.
Business owners have now started to realise that using an Australian Outsourcing company can help shoulder some of that burden.
For instance; being able to decrease staff wages while not impacting on productivity only creates a positive impact on the bottom line.
As an example, the average annual cost savings for Premier Outsourcing clients has been recorded at $40,000 – $90,000 per person. Think of all the other wonderful things you could be doing with that kind of savings?
Whether it be taking your family on a significant holiday, buying a bigger house, buying a nicer car, or even being able to expand other areas of the business you may not have had the equity to do so.
Adding to that; an outsourcing company can allow your business to run a lot more efficiently and more effectively.
How is it done?
Our team can connect you with highly skilled talent that will help take your business to the next level. We work with a range of small to large companies and have proven experience in helping businesses to leverage from remote workforces.
Premier Outsourcing prides itself on being able to hand pick suitable applicants for a vast range of different roles and service industries by utilising a large group of an educated talent pool within the Philippines.
It is, however, essential to know that the Filipino staff working at Premier Outsourcing or working in any other Australian outsourcing company for that fact, have no desire to take away jobs from Australians. Filipinos love nothing more than working as part of a team, being productive and striving towards a common goal for the business. They have a fantastic work ethic. Offshore resources can help support your local operations by taking on labour and process incentive tasks that local employees may not have the time to complete efficiently. This will allow local employees to focus on things that matter; like growing your business!
Some of the roles which can be outsourced include admin support, customer service, technical support, telemarking, web development and virtual assistant services.  Our offshore team can also allow you to provide round the clock service- something you might not have been able to achieve locally.
At Premier Outsourcing, we have witnessed clients expand their staffing capacity at a much faster rate than they may have been able to locally. This has resulted in those businesses being able to scale their business much more effectively and at a fraction of the cost.
Our Philosophy
At Premier Outsourcing, we are a staff orientated company. We believe it is our staff that make the company great. Our philosophy is that if we provide the best work environment for our team, then we will attract and retain the best staff available. With this, we can offer the best service possible to our clients.
If you would like to know more, please contact one of our customer service representatives at 1300 718 837. We are more than happy to discuss what we can do to help your business grow and evolve.
Premier Outsourcing has no lock-in contracts, however we do have a 2 months notice period to end the agreement.
CLIENT TESTIMONIALS
(HIDDEN FOR NOW)
Waiting for Updated Clients Testimonials
Premier Outsourcing prides itself to be a staff orientated company. It is the staff that make our company great. Our philosophy is that if we provide the best work environment for our staff, then we will attract and retain the best staff. With this we can offer the best service possible to our clients.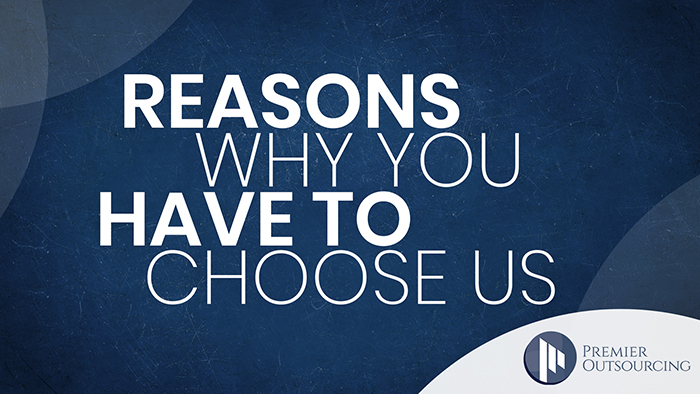 Know more about outsourcing & our services.
Give us a call.